Manually Using the Hydraulics to Pull the Probe Up
November 8, 2022

Posted by

Felix.Weber
Comments Off

on Manually Using the Hydraulics to Pull the Probe Up
Manually Using the Hydraulics to Pull the Probe Up
The hydraulics can be operated manually using the controls on the hydraulic block.
Activate the probe rotation by pressing down the red rotation valve button to release the lock pin (will come up a bit). Turn the button counter-clockwise to activate probe rotation.
Locate the hammer/probe valve. The probe goes down when pulling the valve. The probe goes up when pushing the valve. At the same time always activate the main valve by pressing it down when activating the other functions.
Never lift the foot off the soil surface while the probe is in the ground. This can change the angle of the probe.
Remember to re-set the rotation valve before continuing to sample of the probe.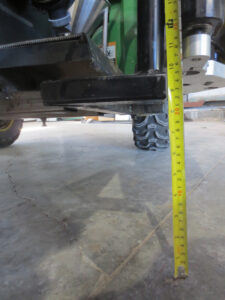 Stuck probe
Probe not Rotating:
Loose or poor wire connection to the Solenoid on the rotation hydraulic valve.
Dirt stuck in rotation valve. Can be prevented by regular hydraulic Oil and filter change.
Solution:
Check tightness of solenoid plug, open plug and reconnect, check for corrosion.
Reverse the two hoses for probe rotation marked A3 – B3 on Hydraulic block to flush any dirt particles back in tank . Reconnect the hoses to original setting.
Hammer has little/no pressure or acts irregularly.
Check for visual leaks, and the level of hydraulic oil in the reservoir
The hammer pressure accumulator pressure may be low, or defective. Ag Bussiness & Crop has equipment to test and recharge your accumulator, which we will do at no cost. Ship your accumulator to us with a return label. Have your accumulator serviced annually.  Wintex-repair-form.pdf
Impurities or dirt particle build-up in hammer-head. This happens over time if the Oil and filter is I not replaced.  Change fluid and filter at recommended interval of 5000/yearly
regular hydraulic pump service with oil and filter change.
Damaged lock pins on the Pickup frame.
Install the pins on the frame without the lock nut so the pin goes in further with less or no gap between the locking hole and pin.A bent pin means too large of a gap. There is a lot of force needed to shear off a pin.
If the rolling frame is too loose, either replace the plastic rollers or use a washer to push the Wheel out and stabilize it more.
Tilting pin: The hitch bolt must be reasonably tight and plates tight on the pin side, so there is no gap between the plates to reduce the risk of bending the pin.