About Us:
We are a family-owned company that takes pride in bringing Precision Agriculture Equipment to forward thinking and innovative users across Canada.   Our goal is your success, and we work hard to provide the best possible customer service, superior equipment and training for you to do your job right. We pride ourselves in making your job easier while ensuring your  success.
Our Mission is Simple:
Quality, consistency, efficiency, and accuracy.  We bring you Precision Agriculture Equipment that meets the highest standards, yielding the greatest returns.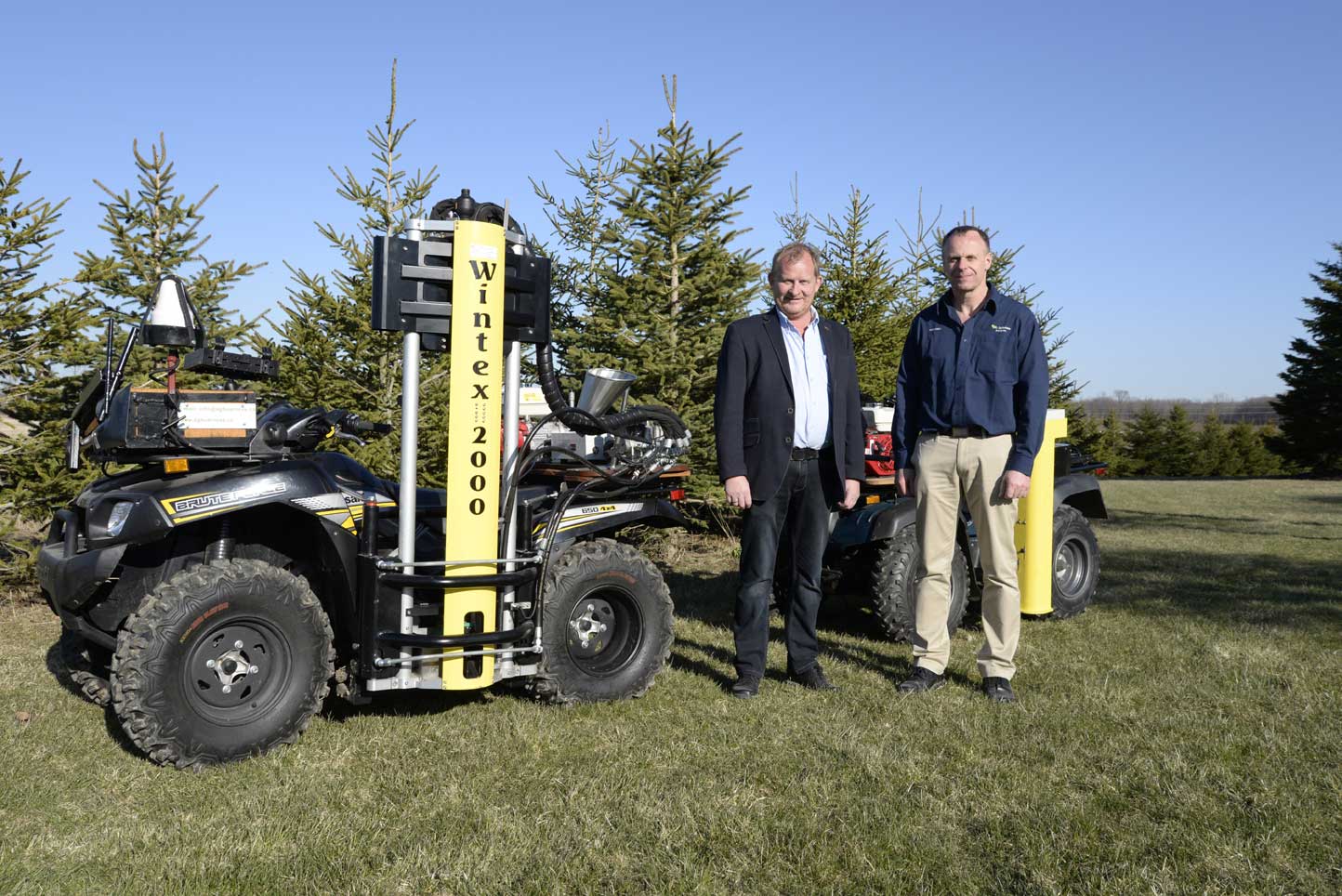 Torben Winter owner of Wintex Agro (Manufacturer)
Felix Weber CEO – Wintex Agro Canada
Collect more samples in less time.

Reduce human error & fatigue

From the driver seat.
Remote Controller
CAN Bus System

Adjustable for all Soil types.
pressure, depth, and more

Extend sampling season.
Hydraulic hammer

Multiple dept sorted in different buckets

Precise, consistent sample quality
core probe, consistent depth

GPS enabled

Versatile to be mounted on most vehicles

Easy to mount, easy to operate
Since purchasing the Wintex1000 soil sampler this spring, it has made soil sampling much easier, efficient and more accurate. This year alone we have completed over 18,000 acres in sampling. The WINTEX 1000 is reliable and extremely user-friendly and requires minimal maintenance. All operations are easily carried out from the driver's seat.  I am very pleased with this new product

.

Randy - Accurate Agri Service

I am deliberating on whether to get another Wintex 2000 and use my older one now as a backup. I have the first model of Wintex 2000, and it has held up well.  It will need some work done this summer to fix some leaky hydraulic hoses, but other than that, it has been good. 

Let me know what your thoughts are. 

Kristina - Axiom Agronomy Ltd.

The Wintex 2000 has been a great investment for our company Glenney Ag services. We find we're not necessarily faster than hand sampling, but we are more consistent, can handle harder ground conditions and still have the energy to keep working through for the whole day. After updating to the (monitor style) control system we have loved it even more. Being able to diagnose, monitor and control the machine now with the new system has been a great advantage. Parts and service have been great with many issues solved over the phone as well as lots of great online content to walk you through issues and regular maintenance. We have been very happy with our investment to be serious about sampling. Brandon Glenney

Glenney Ag Services

This unit allows for effortless sampling. With my arthritis I will be able to keep sampling for as long as I like not as long as I am able.

Max Underhill Farm Supply

Dave Racz. CCA-On 4RMS

We were looking for a high-performance soil sampling system, and the Wintex 1000 & 1000S have lived up to that and more. It is easy to operate and maintain, very reliable, and proven to be an excellent return on investment. We always have received great product support when needed. If you are looking for an accurate, reliable, and fast soil sampler, I would recommend the Wintex. Ferme Bro-Grain S.E.N.C Ghislain Brouillard

Ferme Bro-Grain S.E.N.C

"The Wintex soil sampler is a perfect fit for my John Deere Gator. It's capacity for soil samples per hour has allowed me to cut my sampling time in half. This system has enabled me to start site specific sampling while remaining cost-effective and improving my crops yields."

Dustin Mulock

I recently talked with Felix and I told him how satisfy we are with the two Wintex 1000 we bought from Ag Business and Crop last year. We are looking for a high level of consistency in the depth of the soil sampling because this is key to deliver reliable soil tests analysis. We really can achieve this with our Wintex 1000. Furthermore, we can take so many more samples every day, which make our teams much more efficient.

Pierre Pagé, GISP

We since bought a second unit which now also have Wintex 2000 samples on the counter and is also still in great shape. We are extremely happy with these units and will highly recommend them.

Cavalier Agrow

I had several conversations with Felix regarding our Wintex3000 Soil Sampler, and he has been incredibly helpful along the way. He responds promptly and answered our questions. He has also been very flexible with his availability and does his best to ensure he can help us when we need it. Thanks Felix!

SYLVIS, Danica Long BSc

The Wintex Soil Sampler is an easy-to-use, straightforward machine that alleviates the physical stress of collecting soil samples by hand. It has the ability to collect soil samples from multiple soil depths, and facilitates an efficient soil sampling process.

SYLVIS, Danica Long BSc

I had an issue with my Wintex probe 2000 earlier today. I called using the WhatsApp application and got a quick reply. I was impressed by the speed of the interaction and the help and tips were really useful. I got my probe working again.

Thanks so much for the great service!

Guillaume

Guillaume Pineault (Logiag)